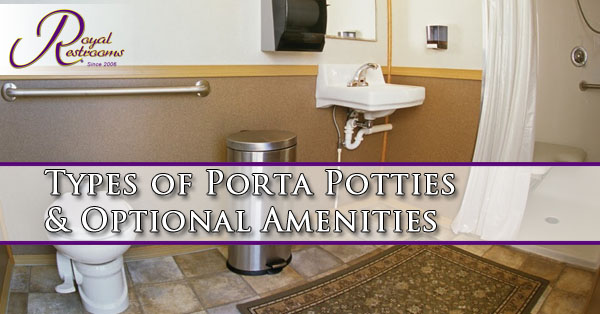 There is a wide range of types of porta potty styles & amenities you can choose from. Depending on the size of the event adding amenities can help cut down on wait times. Having portable hand washing stations along with baby diaper changing surfaces gives your patrons a better experience. Read through your options to get a better idea of what you can offer people attending your events.
Standard
Many are often placed in clusters for short term construction or outdoor events and will be a stand-alone model that has reinforced walls, toilet paper, sink, ventilation, and mirror. The standard porta potties may come with a 60 gallon holding tank capacity.
Standard Handicap Accessible
The standard handicap accessible porta potty will provide additional handrails and room for those with special needs and wheelchairs. The handrails may be found on 3 of the 4 walls and the handicap accessible units are required to meet ADA regulations at large events.
Standard with the Sink
This is similar to the standard unit, but it comes with a hand washing sink, paper towels, soap dispensers and are best at construction sites and large events.
Standard with baby changing station
The standard porta potty has extra room and comes with a baby changing station is certainly a must for any family friendly events. It provides up to 1.5 times more space than a standard unit.
Solar Porta Potty
This unit is available in some states such as California. Solar restrooms will provide solar lighting without needing electricity and are very popular at weddings, on set for movies and tv shows, and for parties.
Portable restroom trailer
This unit is a step up from the standard porta potties. A restroom trailer will provide clean, luxurious, and spacious restroom option for VIP evens and special occasions. Restroom trailers may come as trailers that are 24 foot by 8.5 foot that includes separate men and women restrooms. They often contain up to 4 stalls and 2 sinks with radio, water hookup, air conditioning, and lighting. Restroom trailers also may have a 900 gallon holding tank. These will sometimes come with solar powered lighting.
VIP restroom trailer
These are luxury restroom trailers that are available and may vary by the supplier. These are upgraded restroom trailers that feature upgraded features for presidential use and black tie events and may include granite counter-tops, skylights, cherry wood paneling, oversized mirrors, heating and air conditioning, hands free soap and paper towel dispensers, hands free flushing and faucets and often has a 1600 flush capacity.
Optional porta potty amenities
Adding optional amenities to your portable restrooms at your events makes guests feel more comfortable. They will love having places to wash their hands, mist, heaters for winter, and all of the other amenities that are available. Restrooms might be a detail for your event, but the details are what counts.
Portable hand-washing station
The standard porta potties that do not have sinks will need to have handwashing stations. Handwashing stations will come with a fresh water source, soap dispenser, and paper towels. A 2 sink unit can provide up to 600 washes.
Portable hot water sink
Hot water sinks are different from handwashing stations because they will be used for portable drinking water and handwashing which is best for relief sites, construction sites as well as military purposes.
Hand sanitizer stations
This basic 4-unit hand sanitizer station may be used instead of a handwashing station at large events. It is recommended for construction sites, fairs, concerts and festivals.
Portable mist fan
An outdoor electric fan will be set up near portable restrooms to dispense fresh water as a light mist in order to cool guests that are waiting for the restroom and the individual mist fans may give up to 10 hours of use.
Portable electric heater
Portable electric heaters may be set up in front of the porta potty for comfortable use in cold weather and it is recommended to meet state requirements on construction sites.
Porta potty elevator unit
These were made for high rise construction. The porta potty may be lifted by elevator or crane and will provide a 38-gallon tank.
Shower trailer
These convenient portable trailers come with 2 shower stalls, toilet and sink and are often used for disaster relief, home renovation, construction and VIP events.
Female friendly porta potties
These units are for women only and may be available from suppliers. They feature clean and spacious designs, pink décor, solar power, odor free sanitation and seat pads.
Eco-friendly porta potties
Green porta potties are become really popular for green weddings as well as LEED construction areas. They feature non-toxic and biodegradable disinfectant liquid, recycled gray water collected from sinks, and chlorine free paper products made from recycled materials.
Porta potty valet
The super luxurious VIP events may actually benefit from having a uniformed valet assigned to each restroom trailer. The attendants will stock and clean the restroom while monitoring the flow of guests.
Royal Restrooms Offers Portable Restrooms In Arizona
Royal Restrooms of AZ offers portable restroom trailer rentals, Luxury restroom trailer rentals, and portable shower trailer rentals in Phoenix, Cave Creek and other areas of the Phoenix, Arizona valley. Contact us today to get a free quote. Learn more about how much porta potty rentals cost.