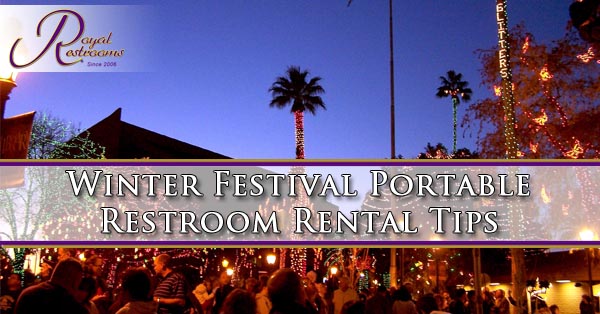 The holidays are upon us and the events and festivals go strong throughout the rest of the year. Thanksgiving, Christmas, and New Years are full of all sorts of large gatherings for celebration. These outdoor holiday events attract large groups of people. Most outdoor locations either don't have restrooms or they do not have enough to support larger gatherings.
One part of winter festival planning is thinking of the portable restrooms you will need to help meet the demand. The sanitation needs of large gatherings can be easily overlooked, but it can mean a less successful event. If people need to wait too long or leave to use the facilities it reduces participation. Having enough portable restrooms at your events means cleaner, safer, and more successful winter events.
There are loads of holiday festivals in Arizona that need to include portable restrooms in their event planning. From the different festival of lights, to ice skating, and all of the other great holiday activities basic sanitation is a key to having the best events and growing events year after year.
Portable Restroom Tips
The first step in planning is thinking about the type of event you are planning, what the expected turn out will be, and other basic demographic type information. Here is a list of considerations to help you ge the right type, and amount of portable restrooms.
What is the expected turnout?
Clearly how many people attend will dictate how much sanitation you will need. Base your estimates off of previous years or buffer your estimates if you are establishing new events.
How many days and hours per day will the event go for?
If the event is going to go for a longer period of time there is a chance that you will need to consider having the portable restrooms switched out so they can be emptied, cleaned, and prepped for another day.
Does the event appeal to more women than men?
Women's hygiene can sometimes take a little more time and require the addition of waste baskets for feminine products. Compensating for events that appeal primarily to women will help keep up with the demand.
Will alcohol be served at the event?
It's a well known fact that events that include alcohol have a greater demand for available restrooms. Make sure that your festivities stay clean, safe, and have enough restrooms for the party.
Should I have sinks or hand sanitizers?
Depending on the type of area you have sinks are usually a great way to offer your guests a place to sanitize their hands and fight germs. If you are going to have an event where freezing is a potential hand sanitizers are a good alternative.
Will my guests expect luxury portable restrooms?
Some events attract a demographic of our population that know and expect the finer things. These guests are well aware that there are luxury portable restroom trailers that have all the comfort and amenities of home. Be aware of your guests and offer them the comfort they will expect.
Putting Information To Work
Once you have answers to all of the questions above you will have the information you need to contact a portable restroom booking specialist. They will discuss the size of the event, the days and hours, and exactly what type and how many of portable restrooms you will need. They will also help you make sure you have enough ADA handicap accessible portable restrooms. This makes sure that everyone is welcome.