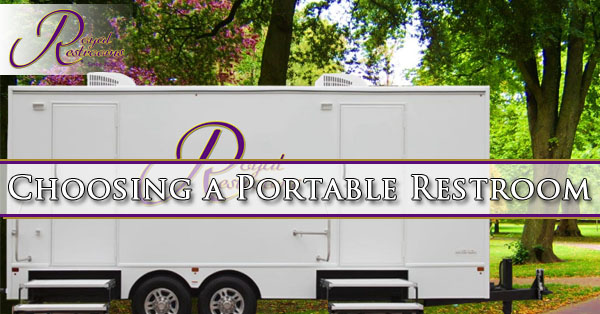 There are an estimated 3 million portable restrooms being used worldwide, and they are serviced using a fleet of more than 10,000 trucks. The main advantage of a portable restroom is just that, the portability. A pickup truck is able to haul a single portable restroom. Additionally, they can be rented from a sanitation supply company that also provides services like cleaning, draining, deodorizing and disinfecting. Portable restrooms are also inexpensive and helps to increase safety and productivity because personnel will not need to leave their work areas in order to use public facilities.
The portable restroom provides convenience for jobsites located outdoors, like:
Civil construction
Road construction
High rise construction
Heavy construction
Industrial construction
Farms
Shipyards
Ranches
Residential construction
Other than just occupational functionality, the portable restroom is able to accommodate other recreational activities as well. Portable restrooms are often used for music festivals, weddings, outdoor sporting events, campsites, parades and more. The government also uses them during training exercises for the military, and with disaster relief processes
Portable Restroom Types
As previously mentioned, various portable restrooms types are available for a range of requirements The portable sanitation industry has grown, and brings in $4 billion a year. Based around your needs, there are trends within the industry which could affect your choice. The initial factor being the question: What is the purpose you need it for? The second: Where will you use it? Industrial usage can vary from recreational use or even purposes, as recreational also has the presentation factor to consider. When on a jobsite, you're going to need functionality rather than appearances.
Construction
Various types of portable restrooms are available for construction. Usually, rental prices include cleaning, transporting, and disposal services. Meanwhile, the price of purchasing it only covers the unit, the disposal and cleaning services are up to you and the company.
Standard: The size of a standard portable restroom is 88"x44"x48", which is big enough for a single person. These restrooms are fully enclosed, with doors that lock, ventilation and non-slip floors. A new standard unit can be bought starting around $700, and used units start around $300 in good condition. Otherwise, they can be rented daily for $60 to $100, or monthly for $150 to $300.
Deluxe: These models come a little wider than a standard model, being 62" rather than 44", this provides the occupant with additional room inside the unit and allows for extra features. There are additional amenities in the deluxe model, such as sinks, hand sanitizer dispensers, shelving, or urinals. A new deluxe unit can be bought starting around $1200, and used units start around $700 in good condition. Otherwise, they can be rented daily for $100 to $150, or monthly for $300 to $500.
High Rise: These models are a bit smaller standard portable restroom that comes equipped with lifting points that allow it to be hoisted by cranes. This gives the added benefit of being placed at elevated levels of a structure or jobsite. They are built to be more sturdy in order to handle more rugged conditions and usage. They can be fully enclosed, but not always because offering just enough sufficient privacy helps them be ore transportable. A new high rise unit can be bought starting around $850, and used units start around $500 in good condition. Otherwise, they can be rented daily for $100, or monthly for $200.
Rolling High Rise: These models vary from the high rise models as they are even smaller, but provide the ability to roll onto heavy duty, lockable casters. The size reduction allows for an open top and partial doors which provide units the ability to be placed in tight spots. A new standard unit can be bought starting around $750, and used units start around $400 in good condition. Otherwise, they can be rented daily for $100, or monthly for $200.
Large Trailer: These models provide multiple sinks and stalls for jobsite locations that need larger facilities with comforts. Usually, they provide hand sanitizer, paper towels, pump activated sinks, and could feature flushable toilets in certain models. Fully assembled large trailer models start around $2,500, and used units start around $1,500. Otherwise, they can be rented daily for $500, or monthly for $1,000.
Waste Tank Expansion: By expanding the size of the waste tank, the duration between cleaning and emptying services is increased. A new waste tank expansion unitcan be bought starting around $150, and used units start around $50 in good condition. Otherwise, they can be rented daily for $25, or monthly for $100.
Agriculture
In the case of temporary agriculture jobs, like a fall harvest, companies often opt for the same portable restroom types as construction jobs. Although, for longer-term jobs which require working in remote areas, it is often preferred to use commercial grade, large trailer models that have climate control features, as well as hot water, and china toilets.
Some of these cases include:
Ranching
Farming
Plantations
Vineyards
Livestock and dairy
Orchards
These type of units are bigger, with the ability to service up to 125 people. They're pulled with trucks, similar to a camper or horse trailer and come with handrails and steps or easy access, waste disposal and water tank features. They are able to be emptied like a camper at a dump station too.
To purchase a new trailer, it starts around $12,000, while the mid-range types come with used trailers available starting around $7,000 in good condition. Otherwise, you can rent them daily for $500 to $700, or monthly for $2,000 to $2,500.
Take note: When buying new units that are mainly used in agriculture and construction, the disposal and cleaning services are not included in the price. The cost of these services are going to depend on the distance between the job site and the dealer or vendor, as well as how often the service will be required to maintain sanitary standards and regulation compliance. Because the price focuses so much on certain situations, you should speak with your local dealer to get an accurate price and find any discounts or deals.
Luxury Requirements
Luxury model portable restrooms do not always have larger dimensions than previously mentioned models. Rather, they stand out due to features and amenities which increase the similarity to a modern bathroom, such as having fashionable construction, colors, shapes and improved presentation.
A luxury model portable restroom may come with these amenities to appear more like an actual restroom:
Paper towels
Mirrors
Soap dispenser
Fresh water flushing
Shelving
Coat hook
Toilet seat sanitizer
Luxury model portable restrooms come in both single and large trailer units. They can also come with wheelchair accessibility and ADA compliance. A new single unit can be bought starting around $2,000, while used starts at $1,200 in good condition. The larger trailer units start around $15,000 new, with used starting around $8,000 in good condition. Otherwise, they can be rented daily for $600 to $800, or monthly for $3,000 to $3,500, but usually rentals are used for short events that last less than a week or just a day.
Outdoor events
The models of portable restrooms used with outdoor events covers all of the previously discussed models. The type and size for the event is going to depend on the amount of people attending, the duration, and your budget. A one-day family event might not need a large luxury trailer, but a large wedding may. Meanwhile, a music event lasing several days could need dozens or hundreds of units depending on the amount of people at the event.
Plumbing options
It doesn't matter what model you go with, standard up to luxury trailers will all need disposal. However, there are various plumbing and flushing options for transferring the waste to a holding tank.
Waste tank: This is the most common way. The waste tank sits under the toilet.
Fresh water flushing: A holding tank sends water by use of a pump or handle.
Recirculating: This uses a method of recycling the dirty water, known as grey water from the sink for use in flushing waste to a holding tank.
Combo flush: This method mixes both grey water and fresh water to complete a flush.
Hand or foot operated: A hand pump or foot pedal is used for pulling water from a holding tank.
Electric powered: This option is commonly used in large trailers, and it needs access to a generator or electrical outlet.
Royal Restrooms Offers Portable Restrooms In Arizona
Royal Restrooms of AZ offers portable restroom trailer rentals, Luxury restroom trailer rentals, and portable shower trailer rentals in Phoenix, Cave Creek and other areas of the Phoenix, Arizona valley. Contact us today to get a free quote. Learn more about how much porta potty rentals cost.