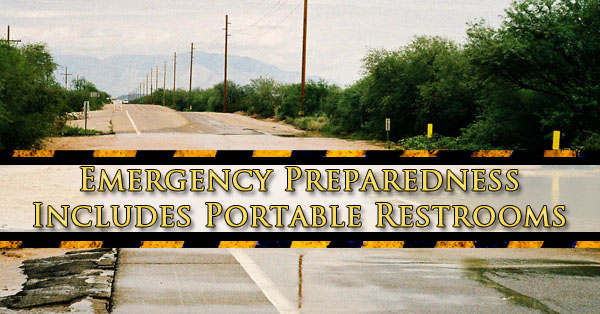 Emergency Restrooms
None of us want to think about or imagine the worst happening in our communities. But nature's harsher elements do rear their ugly head now and again. Coupled with wildfires and other disasters, having a solid plan in place at the federal, state, county, and community level means the difference between order and potential chaos.
Why Are Portable Restrooms Important In Disasters?
Planning for the lavatory needs might seem like an unnecessary detail, but given the conditions during disasters it is an integral part of planning. Large concentrations of people flock to higher ground, or disaster shelters. Depending the type of disaster and the severity people that are displaced might have to stay for hours, days, or even weeks. Having enough facilities for the crowd to relieve themselves is a big part of keeping everyone healthy. Portable restrooms are a big part of providing enough restroom facilities for large groups of people, at the drop of a hat.  Most reputable portable restroom suppliers also have shower trailers that can be supplied to disaster shelter sites.
Not only the people directly affected by the disaster benefit from the portable restrooms and better organization. The people in emergency services and volunteers will be better able to do their jobs if they have proper facilities. This includes shower facilities. Many times emergency workers come from distances that are impractical to commute from. Many don't feel comfortable leaving until everyone is helped and end up sleeping on site as well. Having a portable shower trailer is a great way to keep your emergency staff clean, healthy, and ready for all of the challenges that might face them.
Handicap And Injured Considerations
Unfortunately there is bound to be some injuries in disasters and including portable restrooms that are ADA compliant will help you accommodate not only the handicapped, but people with injuries. These portable restrooms include more than a ramp and turning radius inside. They also feature bars to help maneuver. ADA approved portable restrooms also feature non-slip surfaces, easy flush features, paper towel dispensers that are the correct height, ADA compliant porcelain sinks, and 36" entry doors. All of these features ensure that the needs of everyone are addressed.
Disaster Preparation and Immediate Response
Portable restroom suppliers offer emergency response services. This way they can always be ready when the worst ends up happening. Some portable restroom companies can even be placed on a retainer. This not only reduces cost but means that emergency service is immediate. Many times the portable restrooms can be delivered within 24-48 hours.
---
Setting Up Emergency Portable Restroom Services
Arizona is no different when it comes to disaster preparedness than anywhere else in the world. Having a plan in place that just happens if a disaster happens is the key to disaster preparedness. Having an arrangement already in place with a local portable restroom company can ease the stress of dealing with disasters. Royal Restrooms of Arizona offers emergency restroom disaster response. To get more details and set up the plan for your emergency response group please give us a call today!
Royal Restrooms Offers Emergency Restrooms In Arizona
Royal Restrooms of AZ offers portable restroom trailer rentals, Luxury restroom trailer rentals, and portable shower trailer rentals in Phoenix, Cave Creek and other areas of the Phoenix, Arizona valley. Contact us today to get a free quote. Learn more about how much porta potty rentals cost.