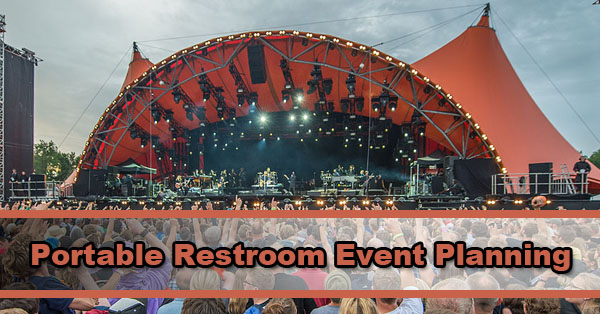 Portable Restrooms for Events:
Special Events in life call for gathering together our families, friends, business associates, or people who have similar interests. Just about any planning of these gatherings should consider necessity of portable restrooms. Portable restroom event planning is something that puts your guests at ease. There's nothing that will clear out an event faster than people having to leave the premises just to use the restroom.
Factors To Remember When Renting Portable Restrooms
It's not just having the restrooms at your site either, it is about how many you have verses your expected turn out, having them in the right spot, and accessible is critical. The following list goes into greater depth over each aspect to successful event planning when it comes to portable restrooms.
Having Enough Portable Restrooms
There is the temptation for event planners and organizers to want to cut a few dollars out of the budget when it comes to the portable restrooms. If you want to have a great event that builds its turn out every year your guests comfort is paramount.
The general rule when looking to get portable restrooms for special events is 1 portable restroom per 100 guests. Its easy math, 500 guests means 5 portable restrooms. Don't let the event's success hinge on something as simple as the portable restrooms. This keeps the lines shorter and guests happier. When serving alcohol at your event you might want to adjust this number up because we all know that alcohol means more trips to the restroom. All day events also mean more people will end up needing a restroom during their visit. If it's going to be an all day affair you should plan to order additional portable restrooms.
Last Minute Portable Restroom Ordering
There are a million things to consider with special event planning. Don't let the order for your portable restrooms wait till the last minute. Having ample time will help your provider ensure that the equipment is ready on the day you need it. It will also allow you and your portable restroom company time to plan how many units, where they will go, and when they will be delivered.
Trying To Save A Buck With Multiple Providers
There's a saying about too many chiefs and not enough Indians. Each portable restroom company is responsible for the contracted amount of units, their delivery, and their positioning. Having more than one provider for large events might seem like a good way to save a few dollars, but it can cause headaches. When you have one large portable restroom contractor you will have a coordinated, cohesive approach where everyone knows the plan and follows it through.
Provide Sanitary Entertainment Opportunities
If your event plans include food vendors you will want to consider how people will feel about using a restroom and then having a place to wash their hands. Having some hand washing stations will keep your guests healthier, and make them feel like they can order up some food and eat with clean hands. Not considering this might leave your guests feeling like they don't want to order any food, which means less revenue. In fact this can also lead to hungry guests having to leave to find a place to wash their hands and eat elsewhere.
Spread Your Portable Restrooms Out
With people driving great distances to your event you don't want them getting there and having to work hard to find a place to use a restroom.  Consider the flow of your traffic through the event. Where is the parking lot? Where are the hot spots for the event, near a stage? Make sure that your order of portable restrooms have an even number near the food service areas, entrances, and near any of the hot spots of your event. Restrooms for events can make or break the event.
Think About Parents And Children
If you've had kids you'll know that not being able to find a place to change a baby's diaper can be annoying. Having a changing table where you can set the child safely and privately makes all of us feel more comfortable. In addition having a place where women can privately breast feed their children avoids potentially uncomfortable publish exchanges. Some premier events even book luxury restroom trailers for a VIP area that's dedicated for these purposes.
Wheelchair Accessible Portable Restrooms
As an event planner you want to make sure that everyone is comfortable and feels welcomed at your events. A consideration you will never want to forget is having portable restrooms that are wheelchair accessible. It isn't just about the type of portable restroom you order, but putting them in a place that is easy for wheelchairs to get to. You'll want to have them placed away from the areas that will be dense with crowds or are just plain hard to get to or maneuver in. The ratio most event planners use when considering wheelchair accessibility is about 10% of your portable restrooms should be wheelchair accessible.
Choose Excellent Service Over Cheaper Prices
When you start your search for a portable restroom provider you will probably find that some bidders come in a lot cheaper than others. Many times when something sounds too good to be true, it is. It can be a sign that they are using old, unkempt equipment. It can also mean they are not paying their employees right, which means that the crew caring for the units and delivering them, might be apathetic about their jobs, and your event.
Royal Restrooms Offers Portable Restrooms In Arizona
Royal Restrooms of AZ offers portable restroom trailer rentals, Luxury restroom trailer rentals, and portable shower trailer rentals in Phoenix, Cave Creek and other areas of the Phoenix, Arizona valley. Contact us today to get a free quote. Learn more about how much porta potty rentals cost.