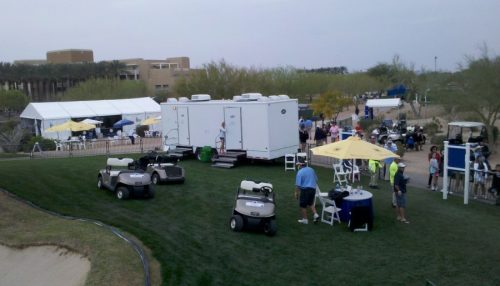 Shower Trailers for Outdoor Festivals
Many of us love going to festivals and enjoying events we are passionate about with like minded souls. Some of these events take place over a stretch of several days, which is where we will focus on this entry. Over the course of a multi-day event, hygiene becomes more and more of a concern with each passing day. If you have been to one of the bigger multi day events, you have seen people come down sick or just get very dirty as the festival progressed. This potentially means many sick and stinky people in close proximity for extended periods of time.
One solution to hygiene concerns at extended festivals is shower trailers. Having a fleet of clean and spacious shower trailers available for festival goers and campers can all but eliminate any of the hygiene concerns at any festival, so long as the crowd is willing to utilize the showers, which they inevitably will. Everybody feels better when they are clean and presentable, it just feels good.
Having your festival goers in higher spirits will only enhance your event and how much fun everyone will have. If a promoter gains a reputation throwing fun, creative, and hygienic festivals they stand to leave the competition behind. Many people avoid these types of events due to the perception that they are 'dirty' and 'havens for illness.' These sentiments lead many to believe that, while the festival looks very tempting it just won't be worth dealing with the downside that comes with it. Those days will be behind you as soon as you decide to outfit your event with clean and convenient restroom and shower trailers.
Royal Restrooms Offers Portable Restrooms In Arizona
Royal Restrooms of AZ offers shower trailers, portable restroom trailer rentals, Luxury restroom trailer rentals, and portable shower trailer rentals in Phoenix, Cave Creek and other areas of the Phoenix, Arizona valley. Contact us today to get a free quote. Learn more about how much porta potty rentals cost.